---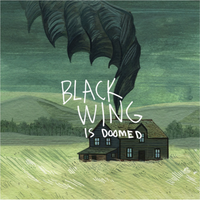 New LP from Dan Barrett, the man behind Connecticut-based Have A Nice Life, Giles Corey, Enemies List and countless other projects, has announced a release date for the first proper full-length from his digital-only solo project, Black Wing.
"I had a heart monitor strapped to my chest for a month. I was dripping a lot of blood all over the place. It was all very undramatic and fleshly and strange. I didn't know what to make of any of it. Meanwhile, it was a beautiful, hot summer, sun everywhere. So I decided to just go ahead and make a depressive chillwave record - basically, music to listen to in the car with the windows down while feeling slightly melancholy and distracted." - Dan Barrett
The resulting seven tracks are gloomy yet uplifting, heavy while ambient, overwhelming yet alluring; resulting in one of the most remarkable electronic releases of 2015.
Vinyl and digital only! This release DOES include a download card.