---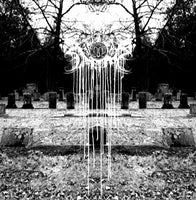 Sale
With more or less handshake sponsorship from the artist in question and the fine people at Hydra Head Records, we at 
Enemies List
 are pleased to present, for the first time on vinyl, 
DEFECTIVE EPITAPH
 - the hopelessly damaged 2007 full length from black metal home recordist and sonic auteur XASTHUR. The casual partnership between ELHR and this prolific entity could not be more appropriate, considering matters of both production method (highly private) and general aesthetic (highly alienated).
Today, underground observers may see a nearly narrative arc in the discography of Malefic(Scott Conner)'s now-defunct project. A GATE THROUGH BLOODSTAINED MIRRORS and NOCTURNAL POISONING were visionary takes on the BURZUM/GRAVELAND model of black metal. The late Moribund Cult albums (and that LEVIATHAN split, god damn) saw mastery of form in an almost artisanal sense. Imagine TO VIOLATE THE OBLIVIOUS is a chair - a sturdy, well crafted, haunted-as-all-shit chair. Ahem. SUBLIMINAL GENOCIDE, the Hydra Head debut, reached for a more cinematic scope and deeper tone in production. Conner's final (collaborative) statements became increasingly disinterested with metal tropes, closing out the 15+ year program with the melancholic ether rag wanderings of PORTAL OF SORROW. Several more full lengths and many more EPs and split releases help connect the dots across his body of work, throwing its evolution into sharper relief.
DEFECTIVE EPITAPH, in this scheme, was the falling action before the ghostly denoument and thus, in my own opinion, the definitive XASTHUR thesis. This is the sound of physical and metaphysical ruin - resignation and disconnection while the shit of nightmare still rages. The guitars moan in single string unisons. The distant keys channel FABIO FRIZZI with absolutely nothing left to live for. An out of tune cello slouches and croaks rare bass frequencies, otherwise leaving listeners to fruitlessly search for ground on which to stand. Malefic takes a mostly funeral doom turn at a wood & skin drum kit, stumbling with the casket at instructive, crushing moments.The production is a dead body in a hot attic; past albums merely smell musty by comparison. DEFECTIVE EPITAPH is a centerless source of impossible spiritual difficulty - a terrible, terrible challenge to the senses. It's fucking effective. Nihilism is, in fact, supposed to be exhausting.
Highest-possible quality, double vinyl in gorgeous, old-style gatefold jacket. All-new artwork, designed by Aaron Turner. 
Limited to 600 copies.
 Drop the needle, drink that black coffee, stare at the wall. - Tim